Problem description
tab Switching scenarios are often used in development . When it comes to achieving this effect , We often think of the following ways to achieve this effect .

Mode one Use display:none; To control the dom Show and hide elements . So as to achieve , Two tab Show and hide . But if there are three or four tab To switch , This way is not desirable .
Mode two Use vue The instructions in v-if perhaps v-show Realization . This way you can achieve , But the code is not elegant . Imagine a .vue There's a bunch of them in the file v-if What kind of effect ? And use v-if Many variables have to be declared for identification . So it's not a very good solution
Mode three Use elementui perhaps iview Medium tab Switch components This way is OK , But sometimes you need to /deep/ Change the style , There's a little bit of trouble .
The author thinks , Use vue Dynamic components to achieve tab The switching effect of , It will be more convenient .
What is? vue Dynamic components of
vue Dynamic components of , It's essentially a component , In general, a component is a piece with js Logical UI View layer . The so-called dynamic component is that we can dynamically control the specific display of that component in a certain place of the page according to some conditions . It's kind of tab The taste of switching .
Application scenario description
Demand rendering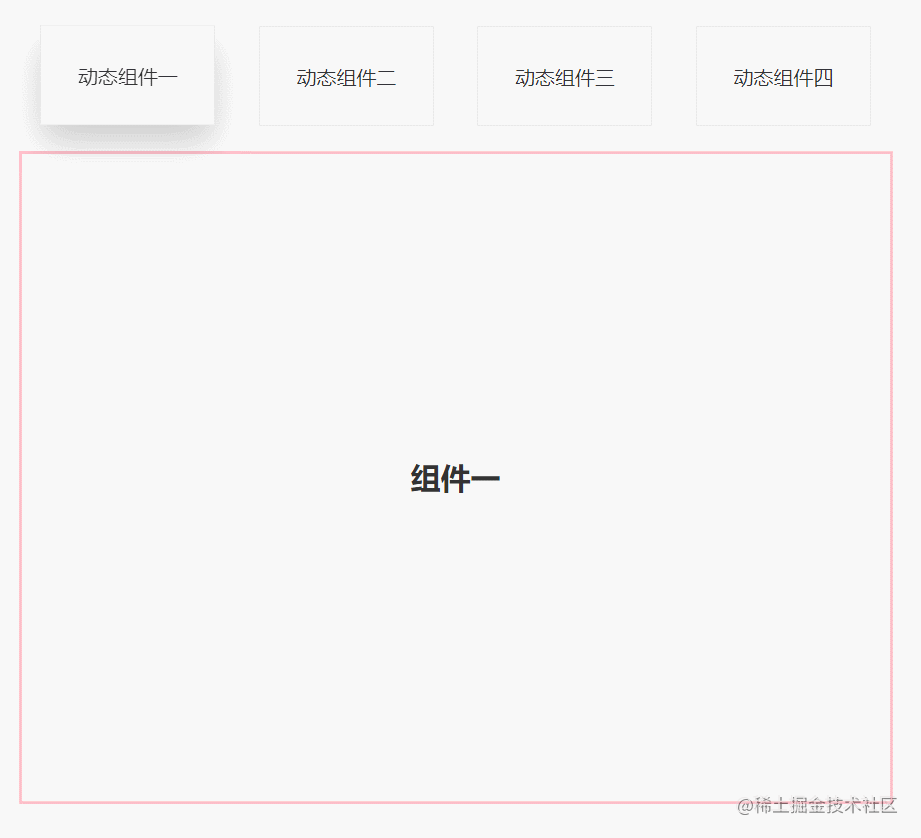 It's very simple , It's just one. tab The effect of switching , Of course, in actual development ,tab The style effect may be a little more complicated .
Implementation steps
First step ( Create a new component and introduce registration )
First, in the components Four... Are defined under the folder .vue file , As tab Switch the content part of the rendering , The introduction of both can be used .
newly build

Introduce and register
import

 one 

from

 

"./components/one"

;


import

 two 

from

 

"./components/two"

;


import

 three 

from

 

"./components/three"

;


import

 four 

from

 

"./components/four"

;
components: {
one,
two,
three,
four,
},


 Copy code 
The second step ( Layout , Put... On it tab Click on the label , The next component presents the corresponding content )
<template>
<

div

 

id

=

"app"

>
<

div

 

class

=

"top"

>

</

div

>
<

div

 

class

=

"bottom"

>

</

div

>
</

div

>
</template>


 Copy code 
The third step ( Write the above tab Click on the label )



data

() {


return

 {


whichIndex

: 

0

,


cardArr

: [
{


componentName

: 

" Dynamic component one "

,
},
{


componentName

: 

" Dynamic component two "

,
},
{


componentName

: 

" Dynamic component three "

,
},
{


componentName

: 

" Dynamic component four "

,
},
],
};
},

<

template

>
<

div

 

id

=

"app"

>
<

div

 

class

=

"top"

>
<

div




class

=

"crad"




:class

=

"{ highLight: whichIndex == index }"




v-for

=

"(item, index) in cardArr"




:key

=

"index"


@

click

=

"whichIndex = index"


>
{{ item.componentName }}
</

div

>
</

div

>
<

div

 

class

=

"bottom"

>

</

div

>
</

div

>
</

template

>


.highLight {
box-shadow: 

0

 15px 30px rgba(

0

, 

0

, 

0

, 

0.2

);
transform: translate3d(

0

, -1px, 

0

);
}


 Copy code 
Step four ( Use dynamic component tags <component/> )
 

<div 

class

=

"bottom"

>
<

component

 

:is

=

"componentId"

></

component

>
</div>




data

() {


return

 {


whichIndex

: 

0

,


componentId

: 

"one"

, 


cardArr

: [
{


componentName

: 

" Dynamic component one "

,


componentId

: 

"one"

, 
},
{


componentName

: 

" Dynamic component two "

,


componentId

: 

"two"

, 
},
{


componentName

: 

" Dynamic component three "

,


componentId

: 

"three"

, 
},
{


componentName

: 

" Dynamic component four "

,


componentId

: 

"four"

, 
},
],
};
},


 Copy code 
Step five ( Click on a tab Components , Change the correspondence dynamically componentId value )
<template>
<

div

 

id

=

"app"

>
<

div

 

class

=

"top"

>
<

div




class

=

"crad"




:class

=

"{ highLight: whichIndex == index }"




v-for

=

"(item, index) in cardArr"




:key

=

"index"


@

click

=

"
whichIndex = index;
componentId = item.componentId;
"


>

{{ item.componentName }}
</

div

>
</

div

>
<

div

 

class

=

"bottom"

>

<

keep-alive

>
<

component

 

:is

=

"componentId"

></

component

>
</

keep-alive

>
</

div

>
</

div

>
</template>


 Copy code 
Complete code with
<template>
<

div

 

id

=

"app"

>
<

div

 

class

=

"top"

>
<

div




class

=

"crad"




:class

=

"{ highLight: whichIndex == index }"




v-for

=

"(item, index) in cardArr"




:key

=

"index"


@

click

=

"
whichIndex = index;
componentId = item.componentId;
"


>
{{ item.componentName }}
</

div

>
</

div

>
<

div

 

class

=

"bottom"

>
<

keep-alive

>
<

component

 

:is

=

"componentId"

></

component

>
</

keep-alive

>
</

div

>
</

div

>
</template>
<

script

>


import

 one 

from

 

"./components/one"

;


import

 two 

from

 

"./components/two"

;


import

 three 

from

 

"./components/three"

;


import

 four 

from

 

"./components/four"

;


export

 

default

 {


components

: {
one,
two,
three,
four,
},


data

() {


return

 {


whichIndex

: 

0

,


componentId

: 

"one"

,


cardArr

: [
{


componentName

: 

" Dynamic component one "

,


componentId

: 

"one"

,
},
{


componentName

: 

" Dynamic component two "

,


componentId

: 

"two"

,
},
{


componentName

: 

" Dynamic component three "

,


componentId

: 

"three"

,
},
{


componentName

: 

" Dynamic component four "

,


componentId

: 

"four"

,
},
],
};
},
};
</

script

>
<

style

 

lang

=

"less"

 

scoped

>


#app

 {


width

: 

100%

;


height

: 

100vh

;


box-sizing

: border-box;


padding

: 

50px

;


.top

 {


width

: 

100%

;


height

: 

80px

;


display

: flex;


justify-content

: space-around;


.crad

 {


width

: 

20%

;


height

: 

80px

;


line-height

: 

80px

;


text-align

: center;


background-color

: 

#fff

;


border

: 

1px

 solid 

#e9e9e9

;
}


.highLight

 {


box-shadow

: 

0

 

15px

 

30px

 

rgba

(

0

, 

0

, 

0

, 

0.2

);


transform

: 

translate3d

(

0

, -

1px

, 

0

);
}
}


.bottom

 {


margin-top

: 

20px

;


width

: 

100%

;


height

: 

calc

(

100%

 - 

100px

);


border

: 

3px

 solid pink;


display

: flex;


justify-content

: center;


align-items

: center;
}
}
</

style

>


 Copy code 
In real business , Flexible use of dynamic components , The style of the code written in this way is quite elegant . Life is not easy , We work together