Title Description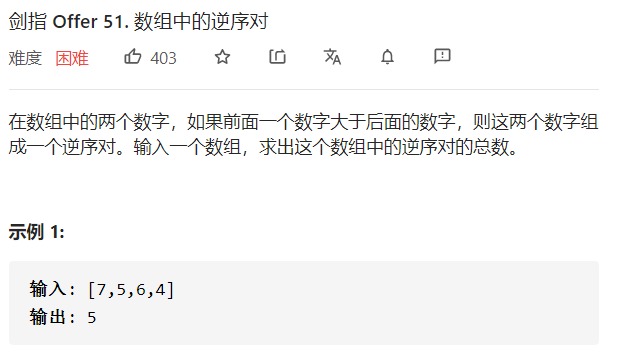 Their thinking
I'm just beginning to see the problem , The first thing that comes to mind is violence , That is, through for Loop through and through , Result timeout .
Only after reading the explanation can we know , Solve the problem of reverse order , It's often sorted by merging
The essence of this question is to merge and sort , Just on the basis of merging and sorting , It's just a line of code .
Merging and sorting use the idea of divide and conquer , This question is based on the merger or not , Do statistical calculations , The final result is .
Solution code one ( Violence law : Overtime )
var

 reversePairs = 

function

(

nums

) {


let

 flag = 

0

;


for

 (

let

 i = 

0

; i < nums.length; i++) {


const

 temp = nums.slice(i+

1

);


for

 (

let

 v 

of

 temp) {


if

 (v < nums[i]) {
flag++;
}
}
}


return

 flag;
};


 Copy code 
Problem solving code 2 ( Merge sort )
var

 reversePairs = 

function

(

nums

) {




let

 sum = 

0

;

mergeSort(nums);



return

 sum;



function

 

mergeSort

(

nums

) {



if

 (nums.length < 

2

) 

return

 nums;



let

 mid = 

Math

.floor(nums.length / 

2

);



let

 left = nums.slice(

0

,mid);



let

 right = nums.slice(mid);



return

 merge(mergeSort(left),mergeSort(right));
}



function

 

merge

(

left,right

) {



const

 res = [];



const

 leftLen = left.length;



const

 rightLen = right.length;



for

 (

let

 i = 

0

,j = 

0

,index=

0

;index < leftLen + rightLen; index++) {



if

 (i >= leftLen) {

res.push(right[j++])
} 

else

 

if

 (j >= rightLen) {

res.push(left[i++]);
} 

else

 

if

 (left[i] <= right[j]) {

res.push(left[i++])
} 

else

 {

res.push(right[j++]);
sum = sum + leftLen - i
}
}



return

 res;
}
};


 Copy code 
summary ( The inspiration of this topic to us )
Revelation 1 : Learn to use merge sort
Revelation 2 : Learn to merge and sort the thought of divide and rule